Make Your New 2020 Year Unforgettably Great With Us!
2019 has been summed up. Let's recollect the brightest moments and remember what kind of year it was for us.
Our developers shared their experience being speakers at 7 various Meetups in Chernivtsi and Ternopil (PHP, .Net, Angular, AI, Recruitment).

Developers and management teams improved their expertise at conferences (JavaScript fwdays, .Net fwdays, KRUPA, WeAreDevelopers World Congress, HR for business) in Kyiv, Ivano-Frankivsk and Berlin.
SharpMinds was one of the partners and contributed to the organization of .Net Meetup in Ternopil, PM Meetup in Chernivtsi, IT weekend and IT breakfasts of Chernivtsi IT Community. We also hosted PM talks (United Spaces) in our Chernivtsi Office. Internal lecture dedicated to Public Speaking skills aroused the interest among our coworkers.
We arranged office tours and lectures on IT market development for students and pupils in Uzhhorod and Chernivtsi.
Numerous business trips of our developer teams to the Netherlands took place previous year.
We appreciate the loyalty of our colleagues, who celebrated their 5th, 6th, 7th, 10th anniversaries of work at SharpMinds.
We did not only work hard but had fun together too on trips to Budapest, Rome and Morskie Oko.
Mountain peaks Pysanyi Kamin and Khomyak were conquered in a pleasant company. Our backpack #SHARPMINDS_BACKPACK_WORLDTOUR visited far more tourist destinations: Amsterdam, Budapest, Catania, Copenhagen, Crete, Gdansk, Hallstatt, Heidelberg, Marmaris, Prague, Rhodes Island, Rijeka, Sunny Beach, Strasbourg, and Vienna.

Secret Friend activity, strike ball game and time spent in bowling, cinema, on the skating rink left bright memories.
Our working days became happier during the celebration of Vyshyvanka Day, International Women Day, Halloween, Developers Day, QA/QC Engineer's Day, HR Manager's Day and Recruiter's Day.
It goes without saying that Company Day, New Year party and Pool Party were among the most awaited events during the year.
Among our sport achievements are 4 half-marathons, 1 marathon, 10-km run, the 2nd place in Uzhhorod football IT Cup, the 3rd place in Ukraine Championship in Powerlifting, participation of 4 our colleagues in the Race Nation.
Different tastings (wine, whiskey, nuts butter) become our new delicious tradition.
We didn't forget about charity and joined fund- and present raising events for children to St. Nicholas Day in Chernivtsi and Uzhhorod.
And, of course, having 4 newlyweds and 5 newborn babies was very exciting for all of us.
If you're a developer, it's the right time to join one of our skillful developer teams, work with the cutting-edge technologies, gain new experience and get inspired. Got a dream, an idea, a plan, a goal, a strategy or even an existing business? We'll build for you a dedicated software developer team in one of our four offices in Chernivtsi, Uzhhorod, and Ternopil with 100+ technical specialists on board. Our developers have expertise in JavaScript (React, Angular, Vue), .Net, PHP, Java, Python, Node.js, Ruby on Rails, iOS, Android, Unity 3D. Quality Assurance Engineers, UI/UX Designers, Scrum Masters, and DevOps Engineers are an essential part of our projects.
So, if you want to get your ideas embodied, get a great team and are oriented on long-term cooperation – we will contribute to your success eagerly.
It's the right moment to set new goals, accept new challenges, start new projects, create something valuable and mesmerizing at the same time.
LET THIS YEAR BE FULL OF GREAT ACHIEVEMENTS AND SUCCESS FOR ALL OF US!!!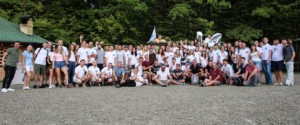 //= do_shortcode('[cta_subscribe title="Subscribe!" text="In need of a developer? Simply fill in the form and SharpMinds will arrange the rest!" width="full" color="light"]')?>